Homestead and Disabled Veteran Exemption Application Deadlines
Below are the Exemption application deadlines: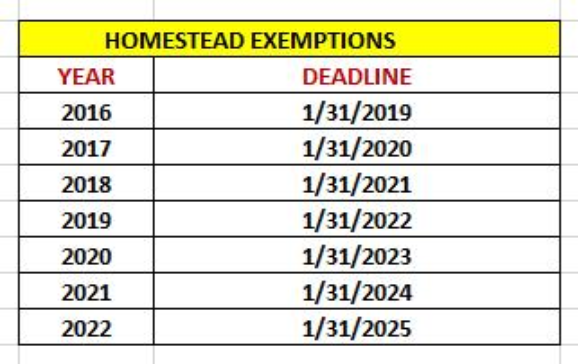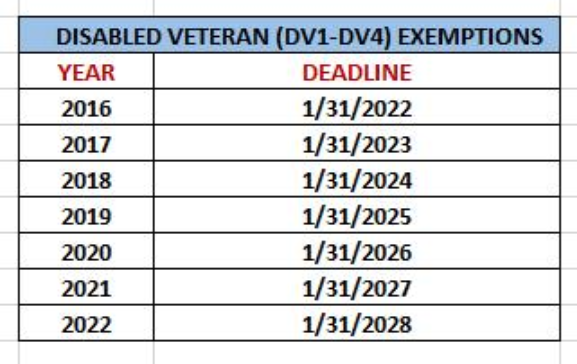 Tax Code 11.439 (a)
Related Articles

Disabled Veteran's and Survivor's Exemptions

Disabled Veteran Exemption - Disability Rating of 10% - 100% You qualify for this exemption if you are a disabled veteran of the U.S. Armed Forces with a service connected disability rating of 10% or more and can provide proof of Texas Residency. A ...

Residential Homestead Exemption: How to File Electronically

Use the Property Search option to locate your property. Search by name, address or account number. Click the HS Exemption icon to access the online Homestead application. At the top of the form you will need to check the Yes or No box ...

Homestead Exemptions Application: Form 50-114

Homestead Application: Form 50-114 Must own and occupy as of January 1st Need copy of Texas Driver License or Texas ID which MUST match situs If Mailing Address is PO Box, the Texas Driver License or Texas ID still has to match the situs (both PO box ...

Free To File Homestead Exemption

Submitting an application is free although you may receive correspondence from a third party indicating they will file the Homestead application for a fee. The Williamson Central Appraisal District does not charge for exemption applications. To ...

100% Disabled Veteran Exemption

100% Disabled Veteran: Must receive a 100% disability rating due to a service connected disability or be considered total and permanently disabled from the Veterans Affairs: Must own AND occupy property Must receive 100% disability benefits OR be ...